It's no secret that men's skin care differs from women's. Although we may all experience acne, rosacea, aging, hyperpigmentation and more, the composition and care is different. Read more for Men's Facials Las Vegas Skin care tips .
Men tend to have larger pores with active sebaceous glands, as a result, they may experience oiler skin that is less prone to dryness. Men also begin to age later naturally; however, once aging does begin it happens quickly. When it comes to skin care, men have kept it simple. You may use a soap or cleanser daily to wash, little to no moisturizer and maybe sunscreen…Now is a great time to reevaluate your skin care regime and create a routine that will have lasting effects, Here are some Men's Facials Las Vegas Tips .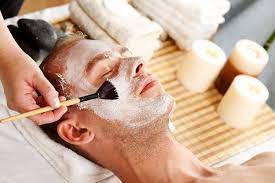 Skin Care Tips for Men
First it's important to understand your sin type;
Sensitive– may sting or burn after product use
Normal Skin– is clear and not sensitive
Dry Skin– is flaky, itchy, or rough
Oily Skin– is shiny and greasy
Combination Skin– is dry in some areas and oily in others
If you do not already have an esthetician, it is a good idea to find one a schedule regular men's facials las vegas, every 4 to 6 weeks in usually best.
Now that you understand your skin type it will make it easier to know which products to use
1. Wash your face Daily, Morning and Evening-
regular bar soap contains harsh ingredients that can dry the skin out, wash with a mild cleanser made for your skin type in warm water
2. Watch you Shaving Technique
multi shave razors can work too well or shave too closely to your skin. If you experience razor bumps, razor burns or ingrown hairs, use a single or double blade razor instead and DO NOT stretch your sin while shaving. Before you shave, wet your skin and hair to soften. use a moisturizing shaving cream and go in the direction of hair growth rinse after each swipe and change the blade every 5 to 7 shaves.
3. Moisturize Daily
moisturizer works by trapping water into your skin. Here in the desert we need all the water we can get. This will help reduce the appearance of fine lines and help your skin look brighter and more youthful. Apply moisturizer right after shaving or bathing while skin is still damp.
4. Check your Skin Regularly
New spots or moles or changes in skin are signs of skin cancer. Start the habit of checking your moles and knowing your skin now. Regular facials with an esthetician are also helpful and identify changes in the skin and a good way to maintain the health of your skin
5. Wear Sunscreen whenever outdoors
To help Prevent sun damage that can lead to wrinkles, age spots and even skin cancer, before you head outside, apply sunscreen. Be sure you are using a Physical or Mineral Sunscreen, we carry many options at Blend Beauty Bar. Be sure to cover all exposed areas and to use a Broad Spectrum SPF. Understand the number that corresponds with your spf refers to the minutes you are covered, exp. 30 spf= 30 mins of coverage If remembering sunscreen on a busy day is too much we understand. Hats work just as good if not better than sunscreen and these days you can even find clothing that has an spf in it to keep your neck, chest and back covered. thank goodness for innovations!
Every Man's Skin is different, and there is no one size fits all approach to skin care. If you are unsure about how to care for your skin, Start with a Facial! We can help you maintain men's facials las vegas.