LED Light Therapy is a process that emits infrared lights on your face in different wavelengths or spectrums. What those wavelengths are determined by the specific kind of treatment you are looking for from LED Light Therapy. The light waves that are sent to your skin trigger certain reactions in your skin cells. These reactions are what, in turn, give results we want.
What are the reactions you might get from the various wavelengths?
Red Light Helps with Collagen and Elastin production. Collagen is what gives the skin that young supple look and why RED-light therapy is used in many anti-aging treatments. Red Light also increases blood flow to the skin and capillaries on the face this promotes healing and rejuvenation.
All the things you want when it comes to having younger-looking skin. Red light used in the treatment of scarring and rosacea. Why LED Light Therapy? Because the Red light has the ability to deeply penetrate your skin which means it gets past that first layer stimulating healing through its ability to increase blood flow.
LED Light Therapy Acne Treatment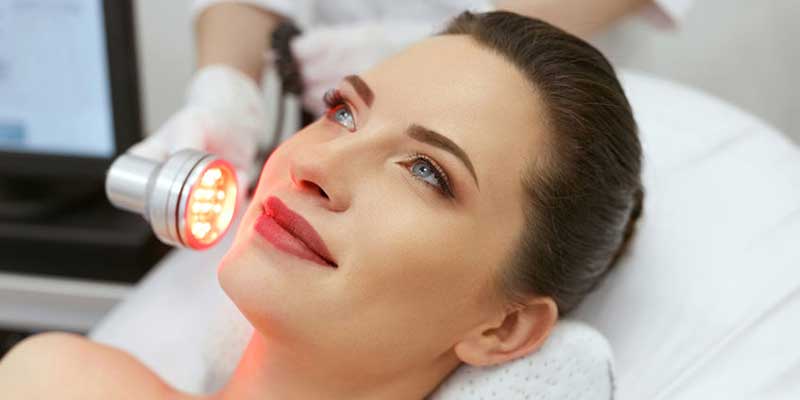 Blue Light treats Acne, how you ask? It is able to generate a high energy form of oxygen that attacks the bacteria in your skin and that bacteria are what causes acne.
White Light- Of all the lights this is the most powerful as it penetrates the deepest into your skin to tighten your skin at its base layer and reduce inflammation this gives your skin that smooth healthy glow we all try so hard to achieve.
Purple Light used to speed up the skin renewal process and reduce fine lines and wrinkles when doing LED Light Therapy.
Green Light used in the treatment of hyperpigmentation, brown spots and discolorations. It helps to prevent the formation of melanin.
Yellow Light used in the treatment of scar tissue and pigmentation reduction along with lymphatic drainage. It also improves the brightness of skin tone and is helpful in the treatment of rosacea.
LED Light Therapy is amazing for so many different reasons, it reduces the appearance of fine lines and wrinkles by stimulating collagen and elastin production reducing the appearance of scars and other skin ailments such as rosacea, by deeply penetrating the skin and promoting the growth of the skin cells and treating acne by fighting off and killing the bacteria under your skin.  This is a def Upgrade from your traditional facial.  In your next treatment ask your esthetician to add LED Therapy to your facial!  You will be glad you did! In your next appointment consider trying LED Light Therapy, We use the Celluma device, it has infared, red light and blue light therapy. It can be used for pain manegement as well as for its amazing skin care results. These are available for sale, inquire about the different models if you are interested.
Follow us on Instagram
If you have more questions please contact us.
https://my.clevelandclinic.org/health/treatments/22146-led-light-therapy